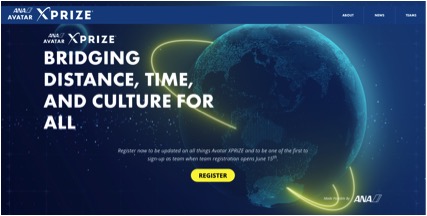 ANA, announced the launch of the $10M ANA AVATAR XPRIZE, a four-year global competition to develop real-life avatars, at the South By Southwest conference in Austin, Texas on March 12. The ANA AVATAR XPRIZE, for the first time as a Japanese company, was adopted by XPRIZE Foundation as a new prize competition in October 2016. 
AVATAR is a future technology that will enable you to remotely see, hear, touch and interact with physical environments and other people through an integrated robotic device. To develop AVATAR, a variety of exponential functions, such as robotics, VR, AR, sensor, communication or haptic, are required. With the prize competition, ANA expects to accelerate integration of such technologies toward completion of the AVATAR.
Drawing up 'ANA AVATAR VISION' as one of the airline's strategies toward Society 5.0 (Super-Smart Society) under its FY2018-FY2020 Mid-Term Corporate Strategy, ANA envisions that the AVATAR provide critical care and deploy immediate emergency response in natural disaster scenarios, stretching the boundaries of what is possible, and maximizing the impact of skill and knowledge-sharing.
ANA is trying to launch new services using existing the AVATAR-related technologies through ANA AVATAR Crowd Funding and to extend its partnership network with private and public organizations. For the future, ANA intends to develop ANA original services by optimizing advanced multi-tasks AVATAR technologies, which may provided through the ANA AVATAR XPRIZE.
As of today, the following organizations join ANA AVATAR VISION: Oita Prefecture, Hiroshima Prefecture, Japan Aerospace Exploration Agency (JAXA), NTT docomo, Softbank, KDDI, Hiroshima Peace Memorial Museum, Okinawa Churaumi Aquarium, Kanazawa Institute of Technology, Shimano, Japan Airport Building/ Haneda Robotics, TechShop Japan/ Fujitsu, ADDIX