ANA Holdings unveiled its new middle-range international airline 'Air Japan' with a brand concept of 'Fly Thoughtful,' which expresses caring, thoughtful and gentle approach. As a hybrid airline between full service carrier and low cost carrier, Air Japan aims to begin its Narita-based services on the Asia and Oceania network in the latter half o FY2023.
ANA Holdings announced in the business model reform plan in October 2020 that it would launch the third brand airline in addition to ANA as FSC and Peach Aviation as LCC.
While taking over the name of existing Air Japan, new Air Japan boldly renewed its brand logo and service contents. Hideki Mineguchi, Air Japan President, explained, "We don't change the name of Air Japan in order to appeal that we are a Japanese airline and offering Japanese quality."
The existing Air Japan will remain as an international flight operator for resort destinations in Asia mainly. Therefore, ANA will be the Japan's first airline to operate two brand airlines, which have the unified safe operation standard and the same cabin crews.
The logo is based on the '(Ai)r' and 'J(apan)' featured in the brand name, and is inspired by the image of a kind and thoughtful hand-to-hand interaction. The brand's color combines the traditional Japanese colors 'Ai (indigo)' and 'Akebono (sunrise).'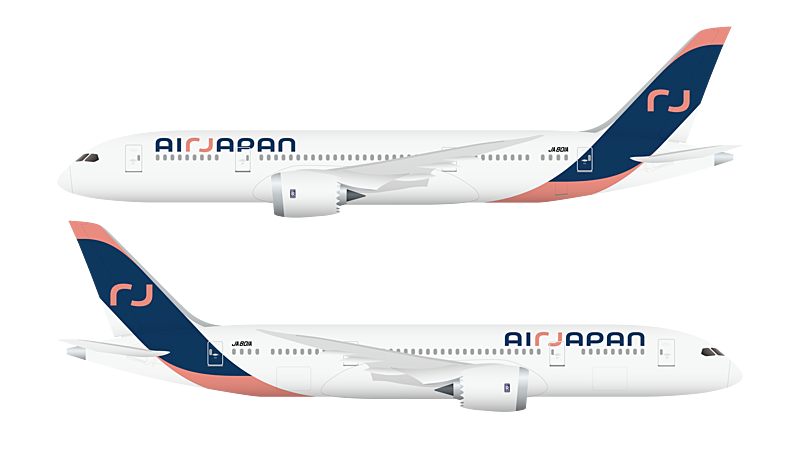 ブランドコンセプトは「Fly Thoughtful」
The priority target is inbound travelers from Asia
Mineguchi said that Air Japan emphasizes selected services in accordance with each customer's preferences. A customer can select preferred FSC services as options and instead give up unnecessary services to reduce travel cost.
Also, Air Japan will focus on comfortable cabin space for all passengers by retrofitting the international flight spec Boeing 787-8 to 300 seats. The airline plans to add two 787-8s a year.
"We will offer cheaper airfares than ANA does. If you don't purchase any service options, you will considerably reduce travel cost," Mineguchi said. "We will try to ensure a profit through our thorough revenue management depending on demand or seasonality, and also cargo can be expected as another revenue source."
Mineguchi revealed that the target load factor is around 80% to ensure a profit, firstly expecting to carry family travelers or young travelers from Asia to Japan after the pandemic.
Air Japan does not decide flight destinations yet, but Mineguchi said that the new airline may fly to destinations in Asia or Oceania beyond four hours from Japan, differentiating from LCC Peach Aviation flying to destinations within four hours from Japan.
"To optimize the ANA Group network and to raise the aircraft operation rate, it is probable for us to combine middle-range flights with short-range flights," Mineguchi said. "We are going to discuss what we can do as an ANA Group airline, including domestic connection with Peach Aviation from/to Narita."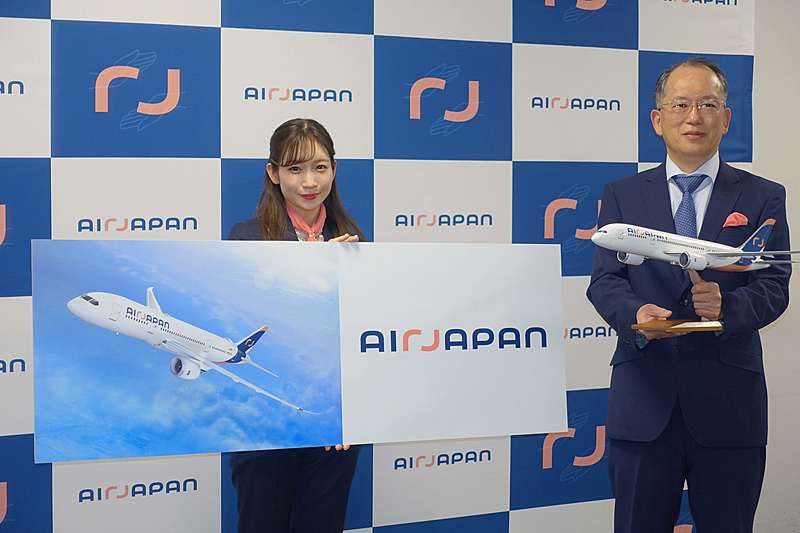 「FSCでもLCCでもない、全てにやさしいエアラインを目指す」と話す峯口氏(右)