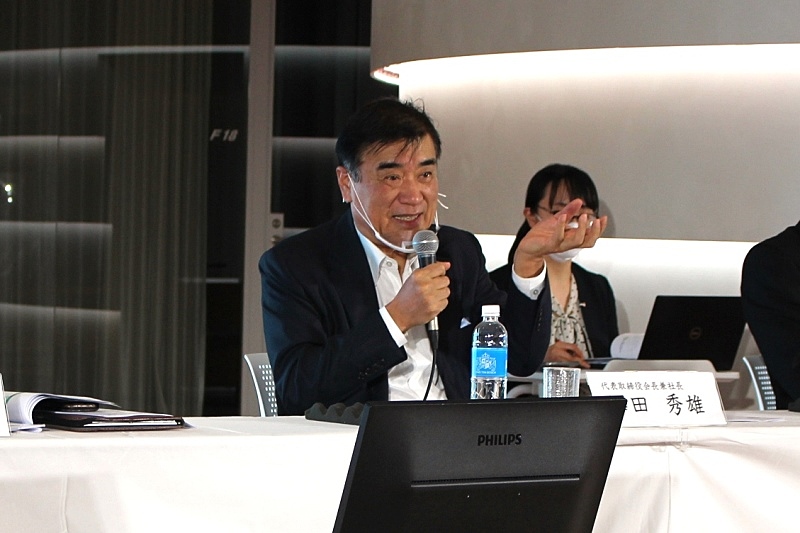 COVID-19 deadly hit HIS, one of largest travel agents in Japan, as it ended FY2020 (November 1 2019 to October 31 2020) with its first deficit since it listed on the Tokyo Stock Exchange in 2002. HIS posted sales of 430 billion JPY (-46.8% year on year), operating loss of 25 billion JPY and recurring loss of 31.2 billion JPY, and net loss reached 25 billion JPY.
The damages were seen not only its core travel business but also the hotel business and the theme-park business. Huis Ten Bosch, the HIS-managing theme-park in Nagasaki, reduced visitors by 45.6% to 1.39 million in total, as it was forced to close for 56 days.
The travel business decreased sales by 50.2% to 359.6 billion JPY and suffered from operating loss of 21.1 billion JPY. Transactions of overseas travel in Japan particularly dropped by 67.1% to 132.3 billion JPY, including a 98.7% decrease in the Q3 and a 99.2% decrease in Q4, damaged by long-standing travel restrictions worldwide.
Transactions of domestic travel recovered well to the 80% level in October 2020 thanks to the domestic travel recovery campaign 'Go To Travel,' but resulted in a 54.1% decrease to 28.1 billion JPY through the fiscal year.
"The severe business environment will continue for a while, but we expect our travel business will recover to 80% to 85% of the FY2019 level in next Q4 and to the same level as FY2019 in FY2022," said HIS Chairman and President Hideo Sawada. "We are trying to regain profit in the latter half of FY2021."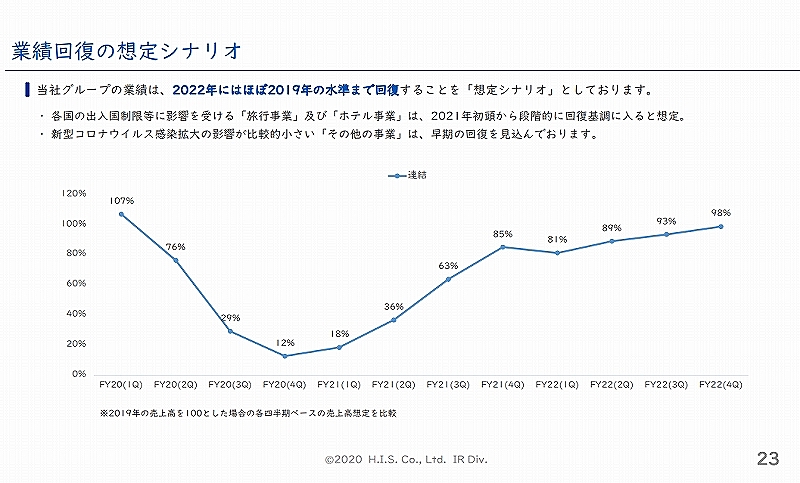 HIS business recovery scenario
For the goal, HIS is making efforts to stabilize its financial base through review of its investment plan, ensuring of its liquidity and thorough cost reduction efforts. HIS has already cut cost of 100 billion JPY a year.
For retail store reorganization in Japan, HIS has reduced those from 259 as of the end of FY2019 to 212 as of the end of FY2020 and will further downsize the retail network to 154 in Q1 of FY2021. Also, the recruitment plan will be reconsidered, and HIS is seeking 1,010 early retirements in FY2020 and FY2021.
To reestablish its business portfolio, HIS is accelerating development of new businesses, including the hotel renovation business, the agriculture business and the restaurant business.
Financial results by business segment are as follows:
Travel business: sales of 359.6 billion JPY (-50.2%), operating loss of 21.1 billion JPY (operating profit of 13.8 billion JPY in FY2019). Transactions were 132.3 billion JPY (-67.1%( for overseas travel, 28.1 billion JPY (-54.1%) for domestic travel, 6.8 billion JPY (-76.9%) for inbound travel, 110.7 billion JPY (-39.6%) for corporate inbound travel to Japan and 111.9 billion JPY (-7.0%) for corporate outbound travel from Japan.
Theme-park business: sales of 13.7 billion JPY (-51.3%), operating loss of 3.4 billion JPY (operating profit of 5.1 billion JPY in FY2019)
Hotel business: sales of 8.7 billion JPY (-31.5%), operating loss of 3.6 billion JPY (operating loss of 200 million JPY)
Kyushu Sanko Group, a bus operator in Kyushu: sales of 19.2 billion JPY (-13.7%), operating loss of 2.1 billion JPY (operating profit of 200 million JPY in FY2019)
Energy business: sales of 26.4 billion JPY (+29%), operating profit of 200 million JPY (-83.2%).