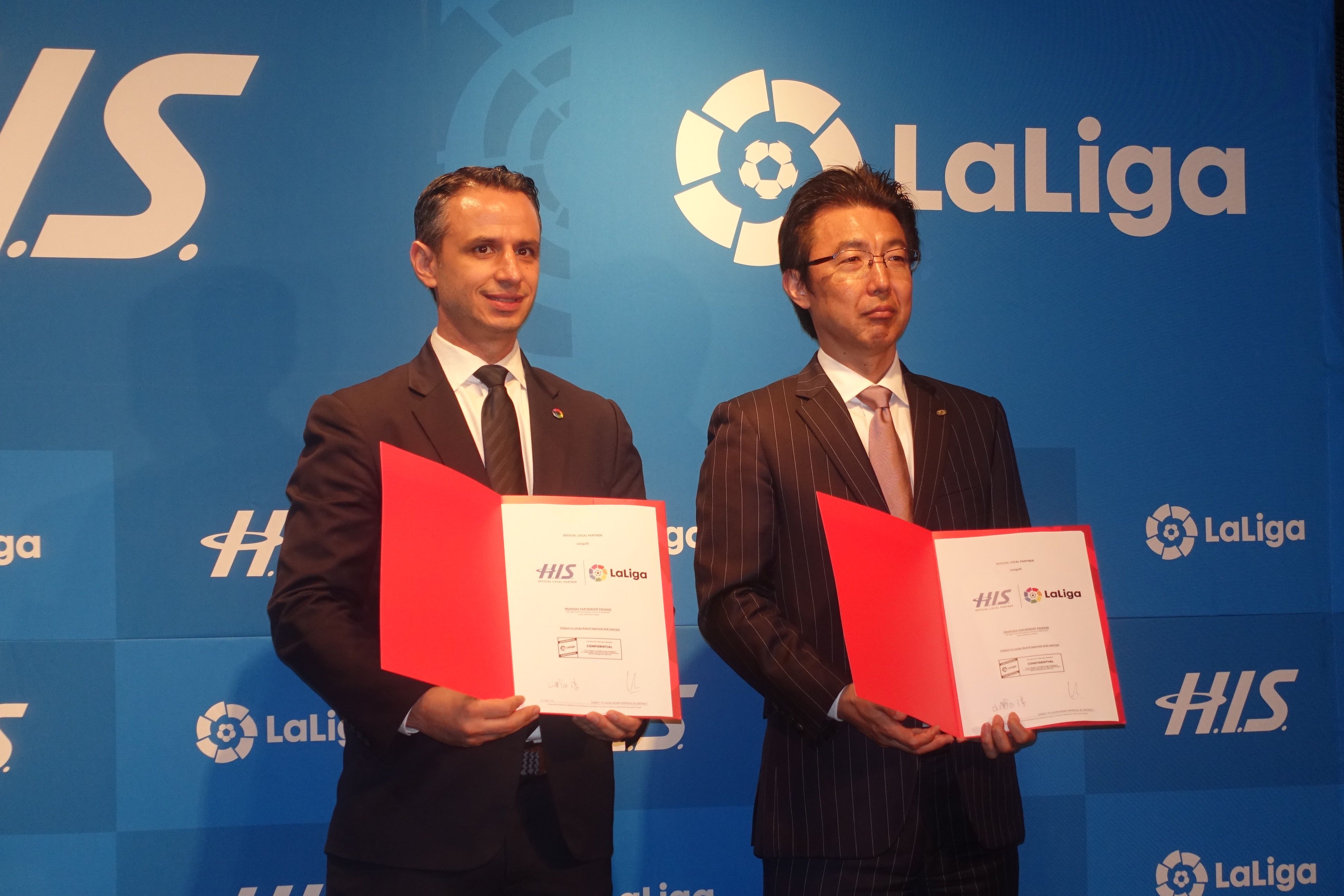 H.I.S. and LaLiga, the Spanish professional football league, have signed the Japan's first official partner contract. With the partnership, H.I.S. will sell VIP seat program combining a VIP seat and a high quality dining service as well as general official seats in the Japanese market. 
Also, H.I.S. expects to send corporate incentive tours to LaLiga, which is highly valued for sports management and entertainment, and to organize a football lesson class or a football event for Japanese young generation to promote exchange programs between Japan and Spain through LaLiga. 
LaLiga is a well-known football league in Japan and is attracting more attentions because two young Japanese players of Takefusa Kubo and Hiroki Abe have signed contracts with Real Madrid and FC Barcelona respectively.
Atsushi Yamanobe, H.I.S. Director/Senior Executive Officer, said at a press conference that H.I.S. is playing a role of the Japanese government's Sports Basic Plan beyond a travel agent role. H.I.S. has launched Sports Event Section, an exclusive sales unit for world sports, and send about 2,000 customers a year to five largest football leagues in Europe. Yamanobe revealed that LaLiga is the most popular league among Japanese travelers. 
In the meantime, LaLiga opened its Japan office two years ago to exploit the Japanese market. "The partnership with H.I.S. is a drive to grow the LaLiga brand in Japan," Ivan Codina, LaLiga Project Manager for Japan, Korea, Southeast Asia and Australia, said. "We would like general travelers as well as football fans to enjoy cultures and histories in the club towns through LaLiga matches."
Julio Baptista, former Brazilian National Team MF and a LaLiga Ambassador, appeared on the stage as well, saying, "Some Japanese players play in LaLiga today. That is great for exchanges between Spain and Japan."  Baptista, who used to play for Sevilla F.C., Real Madrid and Malaga F.C., recommended the three cities to visit for Japanese travelers.