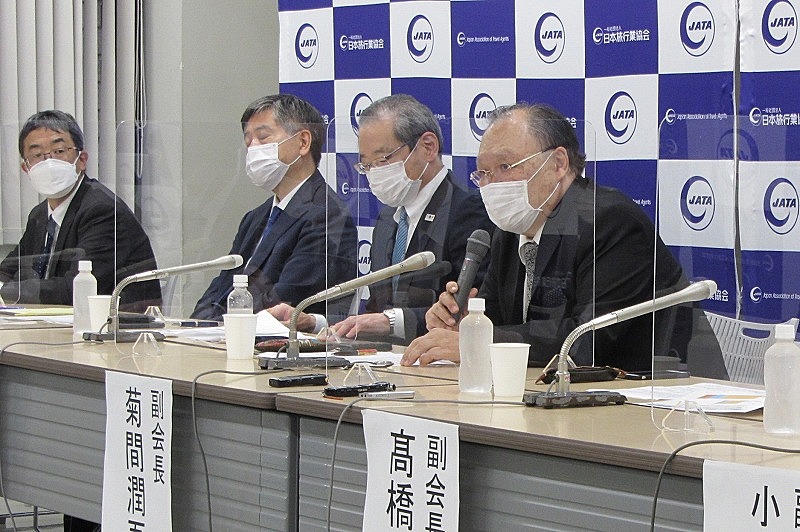 Japan Association of Travel Agents (JATA) is lobbying the government to draw up a roadmap for restart of outbound travels from Japan, referring to ease of travel restrictions in some foreign countries.
"Some countries have already eased travel restrictions according to the roadmap for restart of tourism, as the vaccination rate is rising to 40 to 40%," Jungo Kikuma, JATA Vice Chairperson or World Air-Sea Service Chairman, said. "Japan, however, does not show any directions toward restart of outbound travel. It should be avoided that Japan will be behind other countries in restarting outbound travel."
JATA continues talking about restart of outbound travel with embassies in Japan, national tourism boards or airlines, and they has requested a roadmap of Japan, according to JATA.
Kikuma recognized that there are major two hurdles to restart outbound travel: 14 days quarantine for Japanese people after returning to Japan and Travel Warning Level 3. "Even if these restrictions are lifted, we cannot restart overseas tours soon," Kikuma explained. "We probably need half a year for preparation, including inspections in destinations."
JATA expects that the outbound travel market will partially restore in the fourth quarter of FY2021 or January to March 2022, foreseeing 80% of Japanese people complete vaccination by the end of this year. JATA is encouraging its members to begin their preparations for the time occasion.
At the same time, JATA plans to give its members education seminars particularly focusing on sustainable tourism, which is expected to be one of mainstream trends globally.
"We, travel companies, have missed opportunities to think about sustainable tourism, when we send our customers overseas," Kikuma said. "It is more important to share local cultures, traditions and nature with local people. We should not operate tours in the form of one-sided consumption by travelers. It is essential for us to think seriously how we can develop right tourism and new travel forms after the pandemic."