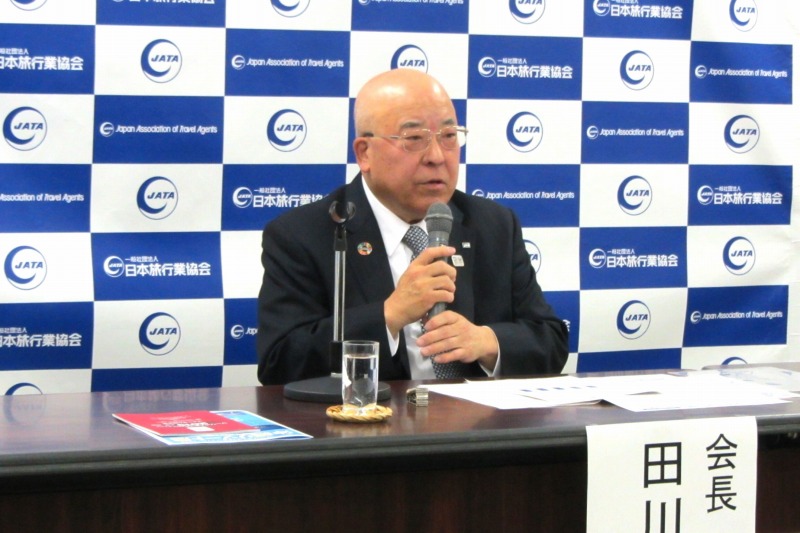 Hiromi Tagawa, Japan Association of Travel Agents (JATA) Chairman, talked about his expectations to the travel industry of Japan in 2020 at a New Year news conference on January 9 2020. 
The biggest event in 2020 is obviously Tokyo Olympics and Paralympics in this coming summer, however ordinary international travelers to Japan are expected to avoid visiting Japan during the period due to higher costs and crowd in Tokyo, unlike the last year's Rugby World Cup that was hosted by a variety of local cities in two months. 
"Japan will certainly draw a huge attention from the world. People from more than 200 countries and region will visit Japan for the Olympics and Paralympics, and Japanese will have a lot of opportunities to communicate with foreigners," Tagawa said. "I think that it is important to showcase Japan as a country and Japanese cultures to the world."
In addition, Tagawa referred to EXPO 2025 Osaka, Kansai. "For the next six years, I hope that tourism in Japan will further grow, responding to new travel styles and travel experiences consumers are looking for. JATA has to play a role to propose new tourism in connection with new lifestyle."
2020 is regard as the first year of 5G in Japan. Reform to Society 5.0 or digital transformation is certainly progressing. "An important theme for the travel industry is to create new businesses by combining travel services with new technologies," Tagawa said. "For a travel company, it is essential to seek partnership with other industries with open of corporate systems." 
Tagawa took office as vice chairman at Japan Electronics and Information Technology Industries Association (JEITA) in 2019. "I think that I have a role to provide hints to use 5G for service resources. 5G will be a key to form Japan as a technology service-oriented country, and tourism may become a leading industry for that." 
Japanese overseas travelers reached the long-term goal of 20 million in 2019. Tagawa said that the next benchmark is 25 million a year, which represents the departure rate of 20%, higher than the today's rate of 15%. Tagawa has spoken the 20%, the same level as other developed country's rate, for a long time.
"To accomplish it, the travel industry has to encourage more young generation travelers to go abroad. It is necessary to provide elementary schools or junior high schools with opportunities to study international exchanges more than today. Otherwise, the departure rate of 20% will not be achieved," he added.