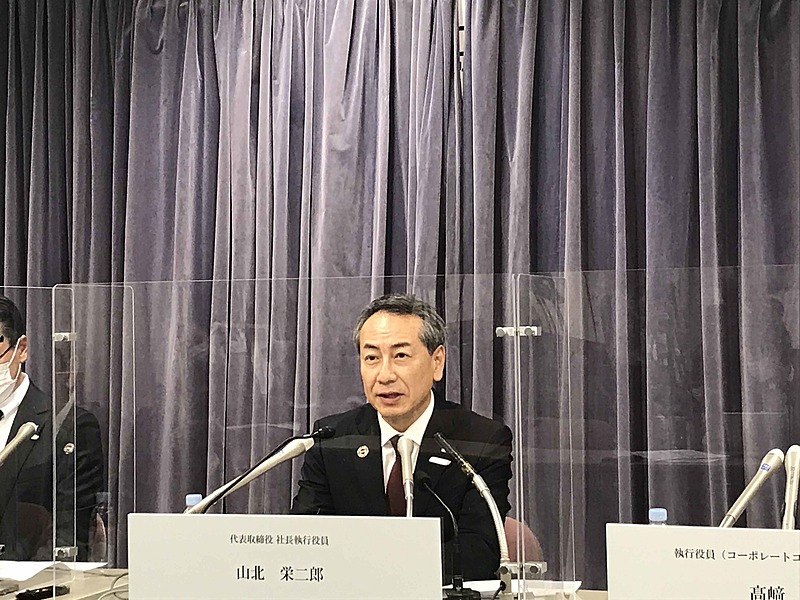 JTB announced that it has forecast to move into the black for the full year of FY2021 ended March 31 2022, when it released the financial results for the first half of FY2021. Although JTB did not mention a concrete numerical forecast, Eijiro Yamakita, JTB President, said, "Domestic travel demand has been recovering, and non-travel businesses have been growing. Also, cost reduction efforts go the line. We believe it is possible to achieve a net profit."
Furthermore, Yamakita revealed at a news conference that JTB will resume hiring of new graduates for FY2023, though it has decided to give up it for FY2022.
JTB expects to get sales of the travel business back to 30 to 35% of FY2019, in which the domestic travel sales are back to 60 to 65%. "After Go To Travel campaign is resumed early next year, and if the infection condition is stable, I think the domestic travel sales may recover to the same level as FY2019 in the end of FY2021."
Demands of overseas travel and inbound travel will still be limited, he added.
Net profit reached 6.7 billion JPY for the first half of FY2021
Sales for the first half of FY2021 (April to September 2021) were up 38.5% year on year to 179.8 billion JPY (down 73.8% over the same period of FY2019), and JTB improved operating loss from 71.1 billion JPY to 33.1 billion JPY and recurring loss from 58 billion JPY and 26 billion JPY.
JTB posted net profit of 6.7 billion JPY, considerably improving from net loss of 78.2 billion JPY a year ago, because of a special profit of 31.1 billion JPY from selling of several real estates including its headquarters building.
Under the new mid-term management plan, JTB reorganized its business structure into three business units of Tourism, Area Solution and Business Solution for its growth strategy. In the first half of FY2021, sales of the non-travel business accounted for 52% of the total (93.1 billion JPY), surpassing sales of the travel businesses (86.7 billion JPY), for the first time.
Sales of Area Solution amounted to 26.1 billion JPY (down 35.2% over two years ago), and sales of Business Solution to 31.8 billion JPY (down 33.4% over two years ago). Yamakita said, "Business Solution is expected to contribute to an increase in the total sales in the second half."
The structure reform will be done by the end of FY2021
As one of the structure reforms for more effective management, JTB has cut four group companies since FY2019 and will cut another 11 companies by the end of March next year. At the same time, a total of 115 retail shops in Japan will be closed by the end of March next year.
JTB has already cut 8,170 jobs by the end of September this year, more than the initial goal of 7,200 jobs. Yamakita said, "We are considering addition of new jobs, depending on demand recovery."