NS Solutions (NSSOL), a Japanese digital solution provider, has started selling 'TRIPHOO,' a DX support solution for travel companies, developed by USAEL. The solution helps them manage a series of operations for tour planning and selling on a system to solve business challenges, such as diversified consumers' needs, dynamic pricing, more effective business operations or rise in profitability.
TRIPHOO is a all-in-one solution incorporating purchasing, creating and selling functions. More than 30 companies have already introduced the solutions, according to NS Solutions.
For the purchasing function, TRIPHOO links with global OTAs or GDS on API and automatically accesses to inventories and prices timely. The creating function allows a user to create dynamic-priced multiple tours automatically.
Using the selling function, a user can manage bookings for single items, set items, dynamic packages or regular tours and launch a selling website for multiple devices in a short term. The management function enables a user to manage booking, arrangement, payment or achievement.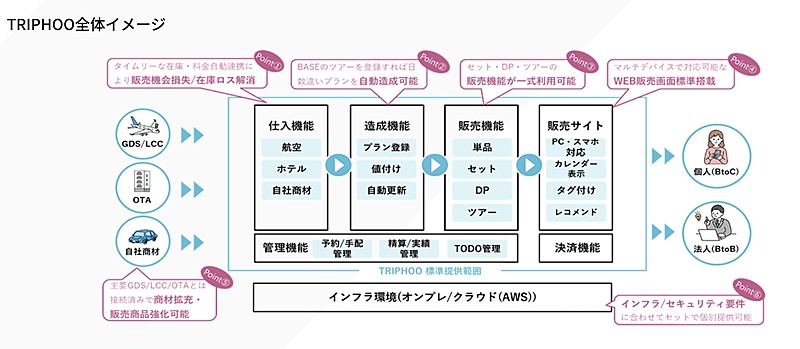 報道資料より