NTT DOCOMO has started selling a new prepaid SIM service 'Japan Welcome SIM,' which allows international travelers to access the Internet through the DOCOMO network during staying in Japan, since July 1 2017. One of the features is that an international visitor can charge a certain amount of high-speed data communication on SIM by viewing a certain number of video advertisements and filling out a survey before coming to Japan. 
It is necessary for a user to register in 'd account' before visiting Japan and to pick up the SIM card at major airports in Japan, such as Narita, Haneda or Kansai, and DOCOMO shops in Fukuoka City. The SIM card can be installed in a smart phone without APN setting. A user can use the NTT DOCOMO network for 15 days during staying in Japan. NTT DOCOMO has a goal to acquire 1 million users as soon as possible and to double users by 2020. 
Japan Welcome SIM has two paid plans of Plan 1000 and Plan 1700 in the beginning and will add a free plan by viewing advertisements in October 2017. 
The table below shows service plans:

At the same time NTT DOCOMO is trying to increase partner companies for the B to B to C model, providing Set Offer service and Count Free service. For Set Offer service, which allows a partner to sell the Japan Welcome SIM together with their own products, Tokyu Hotels became the first partner. For Count Free service, which provides high-speed data to customers of a partner company while disregarding data volumes, when the partner company's web services or applications are used, Booking.com became the first partner. 
The picture below shows Set Offer service model: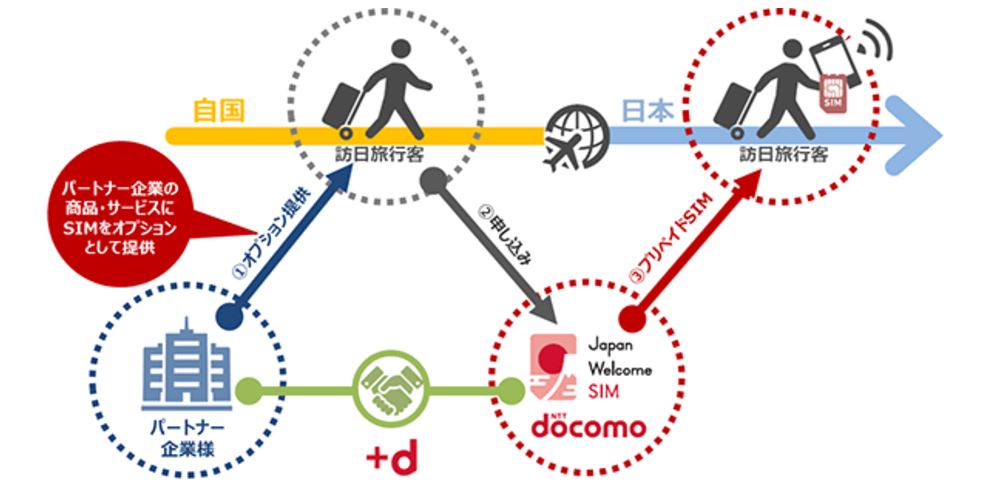 For the SIM service, NTT DOCOMO has a plan to create an advertising revenue model and a future idea to providing coupons or to charge experience or restaurant booking.