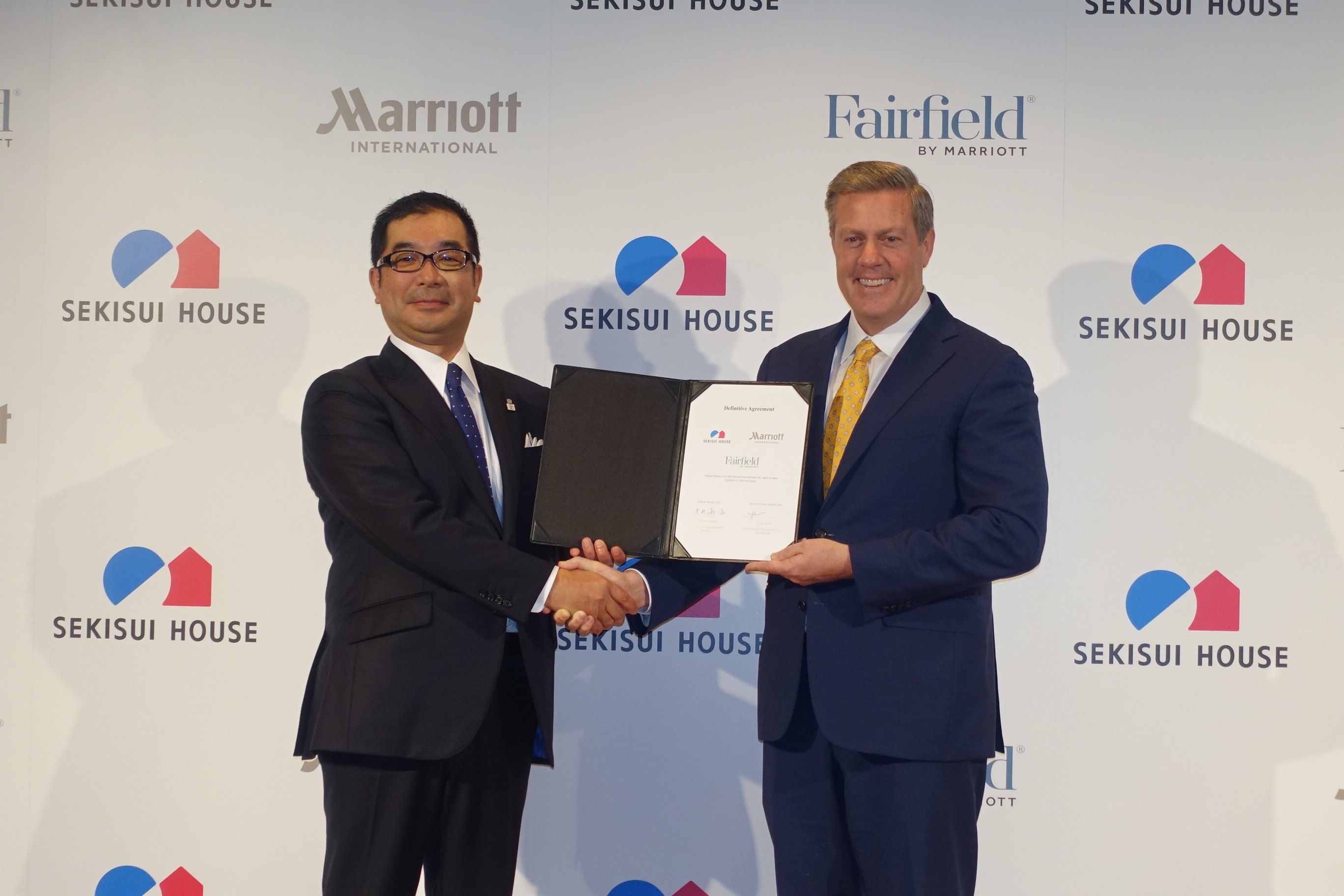 Sekisui House, one of the largest homebuilder companies in Japan, and Marriott International launched 'Trip Base' project, in which the pair works together to open Fairfield by Marriott hotels at 'Michi no Eki' roadside stations in cooperation with local governments. In the first phase, 15 hotels will open in five prefectures after the autumn 2020. 
"We will create a new travel style walking over local sightseeing spots based on a hotel to contribute to local revitalization," Yoshihiro Nakai, Sekisui House President said at a news conference. Under the concept of "Quest unknown Japan," they will propose travels touring local sightseeing spots by walk, bike or car to enjoy communications with local communities.
International visitors staying in local areas in Japan are expected to increase further. Pointing out that short of lodgings will be one of the issues, Nakai said that Michi no Eki with a variety of local products is highly potential to become a local tourism base. "We are going to help scattered local tourism resources be connected as a network."
Fairfield is just a hub for travelers, while local suppliers provide travelers with opportunities for eating, shopping or activities. In the near future, Sekisui House plans to form an alliance with partners, such as rent-a-car, car sharing, rent-a-bicycle, local farmers or media, to expand the project. 
Craig Smith, Marriott International APAC President & Managing Director, said that the project is a great opportunity for Marriott to take in a tourism growth in Japan. Fairfield by Marriott will enter the Japanese market for the first time, though the hotel brand is well known globally as more than 950 properties are now managed in the world. 
Sekisui House, which will be responsible for design and building of the hotels, estimates contraction demand of about 20 billion JPY for 1,000 rooms in the first phase, and additional 1,000 rooms a decade will bring the project to demand of about 200 billion JPY in total. 
As of 2018, 1,145 Michi no Ekis are developed throughout Japan. In addition to 15 hotels in the first phase, Sekisui House has already started discussions about the project with 10 prefectures in the second or third phase.