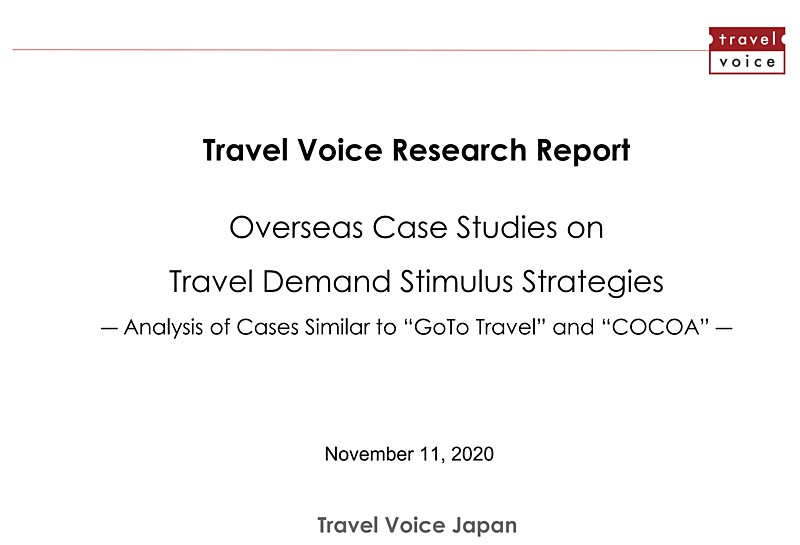 The Japanese government's domestic travel boosting initiative 'Go To Travel' has been used for about 39.8 million nights by October 31 since it started on July 22 2020. The initiative seems to be successful to some extent for recovery of the domestic travel market amid COVID-19. Travel Voice has released its original survey titled 'Overseas Case Studies on Travel Demand Stimulus Strategies' to analyze cases similar to 'Go To Travel' and 'COCOA,' a contact-tracing app.
Domestic travel demand stimulus strategies both for a market and suppliers
Financial incentives to boost domestic travel are basically divided into those for a market as a demand side and suppliers as a supply side.
The demand side sees voucher-typed incentives, such as discount of payment or delivery of discount coupons, including 'Go To Travel,' and financial incentives, such as reduction of VAT, and longer holidays.
The supply side contains financial supports to tourism industries or to promotions and marketing campaigns by DMO.
As an example of the voucher-typed supports in the demand side, Italy provides €40,000 or less income households with 80% discount on the coupon amount when paying for an accommodation, and the remaining 20% will be claimed as a tax deduction and refunded later (up to €500). The initiative will run by December 31 2020 with a budget of €2.4 billion.
In Thailand, Thai citizens over 18 years old with a valid ID are qualified for 40% of the cost of domestic accommodation (up to ฿3,000 per night, for a maximum of 5 nights). The Thai government will continue the initiative by January 31 2021, ensuring a budget for 5 million stays.
In Singapore, the government delivers digital vouchers worth S$100 for staycations and tour tickets in tourist facilities to all 18 years old or older citizens, ensuring a budget if S$3.2 billion in total by June 2021.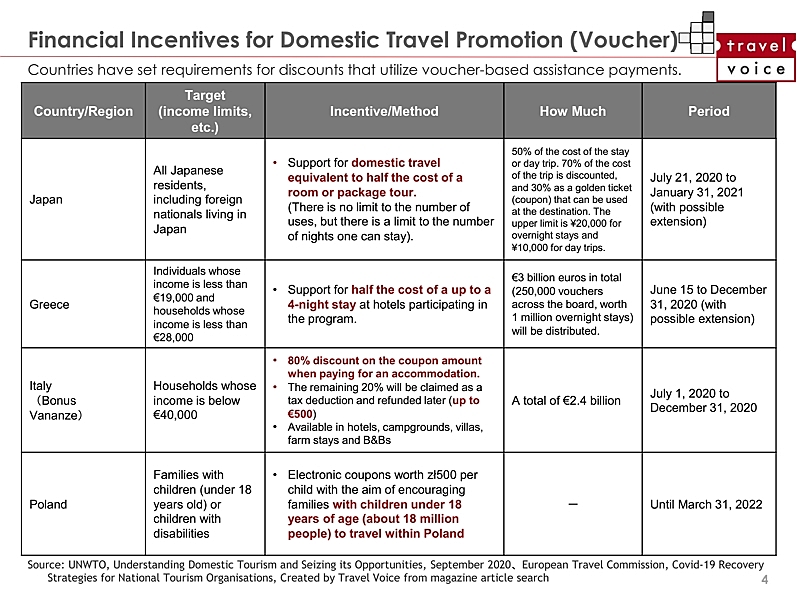 Tax reduction through financial incentives
One of the examples for financial incentives is that Turkey has reduced VAT on domestic flights from usually 18% to 1% and VAT on accommodations or the related-services to zero.
In Malaysia, the service tax on accommodations has been cut from 6% to 0%, which is applicable to cigarettes or alcohols sold in hotels.
An example of other incentives is that Costa Rica has enacted a law that shifts the day of the week of all holidays to Mondays, which is effective between 2020 and 2021, in order to promote domestic travel by citizens.
The report also summarizes contact-tracing apps available in the world, like COCOA in Japan. Greece, for instance, has developed QR code-based Passenger Locator Form(PLF), which all of inbound travelers to Greece is mandated to install.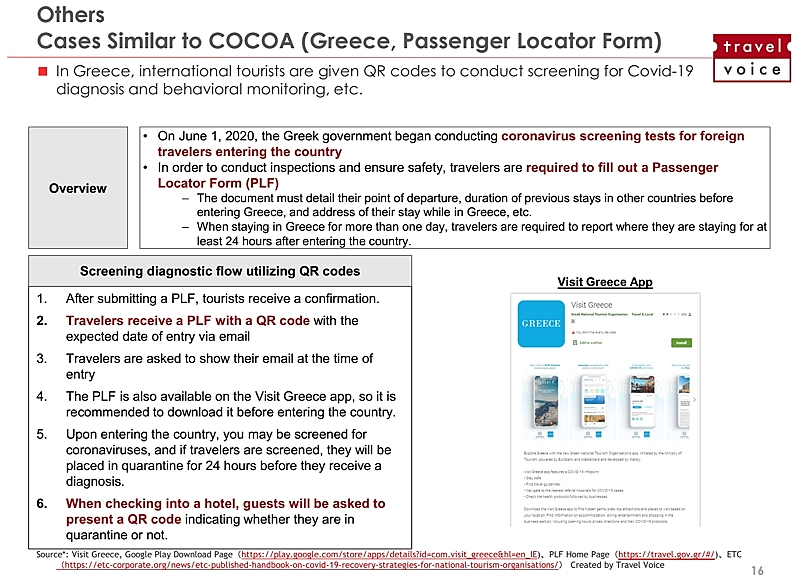 'Overseas Case Studies on Travel Demand Stimulus Strategies' can be downloaded