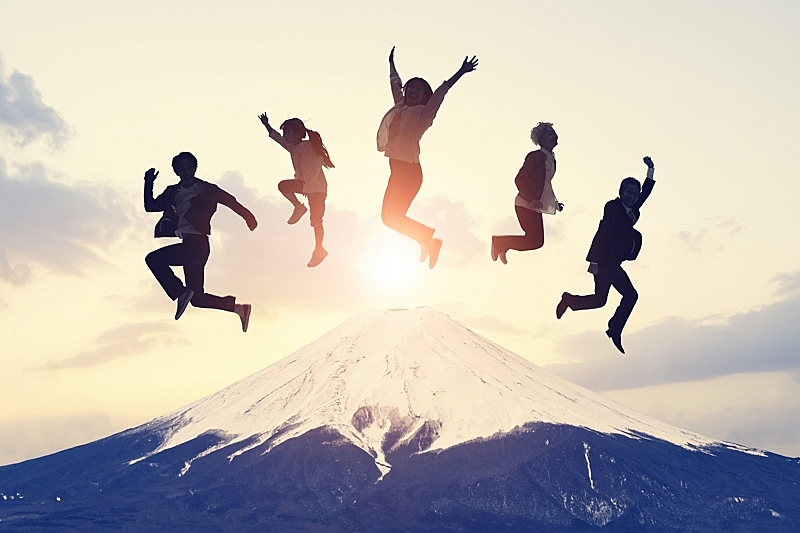 The number of international visitors to Japan was down 88% to 3.83 million in 2022 compared to 2019, but the monthly reduction rates had been smaller from 80% in October to 45.8% in December after the Japanese border practically opened on October 11. Rieko Nakayama, Japan National Tourism Organization (JNTO) Executive Vice President, said at a press briefing that the market has been recovering well.
In December 2022, visitors from South Korea remarkably increased by 83.9% compared to 2019, when leisure traffic between Japan and South Korea was calm because of higher political tension. Compared to 2018, the reduction rate was recovered to 67%. "The South Korea market has been recovering as we have expected," Nakayama said. "We expect that demands to fly into local airports directly from South Korea will increase."
JNTO analyzed balances between visitors and direct flights by market in three months from October to December 2022 compared to the same period of 2019.
Well-balanced markets are Thailand, Indonesia and France. First flight-recovered markets are Singapore, Malaysia, Philippines, U.K., India, Canada and Mexico. First visitors-recovered markets are South Korea, Hong Kong, Taiwan, Vietnam, Australia, U.S., Germany and Middle East.
Based on the analysis, Nakayama pointed out, "Since October 2022, we have seen restarts of direct flights to meet recovering demands, but we are also concerned that slow recovery of flight restarts may cap recovery of visitors." In the well-balanced markets and the first visitors-recovered markets, "It is necessary to ask airlines to increase flight restarts," she added.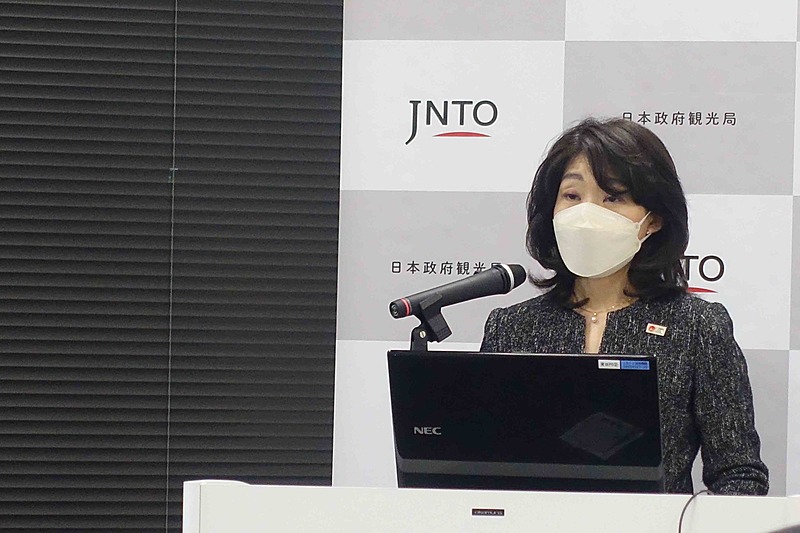 JNTO Nakayama explained the inbound market trend
What are tourism trends in 2023?
Japan Tourism Agency recently reported that spending in Japan per international visitor was up 24.6% to 212,000 JPY in the last three months of 2022 compared to 2019. "This is a good trend for Japan. Travelers who visit Japan even amid rise in prices are wealthy. We need to watch if the trend continues or not."
The full-scale recovery depends on the largest market China. Also, Nakayama said of the long-haul markets, "Japan becomes one of the next destination candidates at this moment. We expect that visitors from the long-haul markets will be back in the period from this summer to the next year."
Picking up five themes as global tourism trends in 2023: 'Sustainable tourism,' 'Experiences in nature,' 'Valued experiences,' 'Workcation or Bleisure' and 'Metaverse' based on a variety of surveys, Nakayama said that the trends match JNTO's three promotion pillars including adventure tourism. As 'Adventure Travel World Summit (ATWS) 2023' is organized in Hokkaido in September this year, Nakayama emphasized, "It will be a good opportunity for Japan to appeal adventure tourism contents to the world."