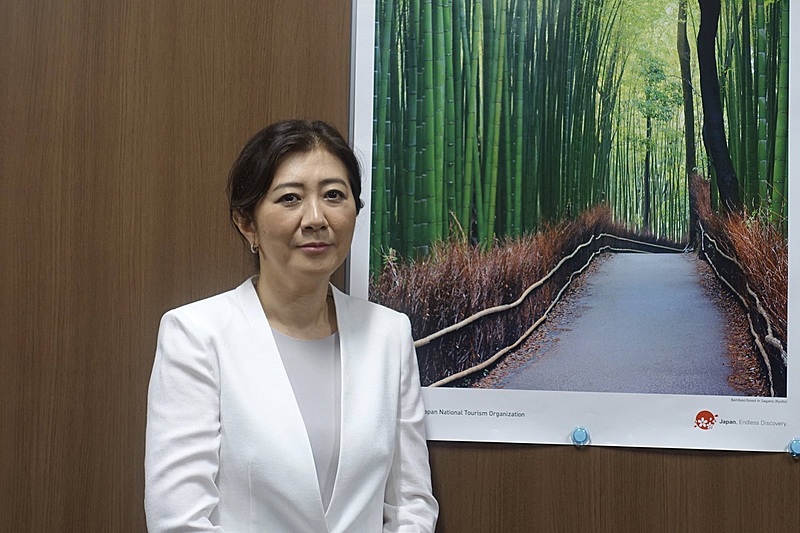 Akiko Yoshida took office as Executive Senior Vice President at Japan National Tourism Organization (JNTO) in June this year when international visitors to Japan have been almost zero amid the pandemic. This is the third JNTO post for her, following the two times in New York including experience of 9.11.
Inbound travelers will be back for sure
"After 9.11, many American travelers stopped boarding planes, and airports were controlled much more strictly than before. The new normal, however, was accepted quickly, and air travel demand gradually recovered," she said. "The pandemic is the same as the 9.11. New normal with COVID-19 will be accepted, and I believe that inbound travel demand to Japan will be back to the pre-COVID-19 level."
While Yoshida showed her confidence, she recognized that it takes a longer time to recover the demand because the pandemic is a challenging issue over the world, unlike 9.11. "There are various recovery scenarios, depending on vaccine development or re-spread of the virus," she said.
Amid the current uncertain situation, what JNTO can do now are limited, such as information delivery on SNS or from its overseas offices. "Our restart of full-scale promotional activities will depend on entry restrictions of Japan," Yoshida said. "What we must do is to avoid re-spread of the virus in Japan after reopening the boarder. It is essential for us to inform foreign visitors of what they have to keep in traveling in Japan, which is also important as commitment to Japanese residents."
JNTO is doing what it can do now
International visitors to Japan were 32 million in 2019, which accounted for about 20% of the entire travel market in Japan in terms of stay nights. The market, however, has completely been closed, and at the same time the outbound travel demand has been stopped.
"If many of 20 million Japanese overseas travelers shift to domestic travel, the entire travel market can be maintained to some extent. The biggest problem right now is dull recovery of domestic travel demand rather than zero inbound travelers. I expect that the government's Go To Travel campaign and local governments' initiatives are boosting the domestic travel demand."
Yoshida revealed that JNTO is seeking new actions as what JNTO can do now, such as online connections between JNTO members and JNTO overseas offices to share promotion ideas for the future, delivery of tourism contents for foreigners in Japanese to Japanese stakeholders or combination of information delivery with sales of local products online to help local tourism economy.
For higher quality tourist contents
In addition to those ideas, JNTO is enhancing its consultation fir local communities."The JNTO's mission is ultimately to create jobs and revitalize local economy through inbound tourism," Yoshida stressed. "One of the important themes for JNTO is help local communities create higher quality tourist contents, not price-driven products, for restoration of inbound tourism in the future."
One of what Yoshida points out as higher quality contents is an increase in international brand hotels. "Ryokan is getting poplar among international travelers, but it is likely to be in-destination experience for them, not suitable for long stay. To encourage travelers from U.S. or Europe particularly to stay longer in Japan, I think that more international brand hotels will be needed. The higher potentiality can be seen in local national parks, not in urban areas, for decentralization of tourists to local regions."
Tourism is an apparatus industry for a local community. It is what Yoshida defines as relevance between tourism and a local community. "I think that it is important for a local community to build sustainable eco-system, balancing inbound tourism and domestic tourism. Maintaining local original cultures and nature, a local community should circulate businesses to bring about jobs and revenue, and otherwise, sustainable tourism will not be made."
Also, Yoshida emphasized that the tourism industry of Japan must pay more serious attention to marketing to attract tourists and increase spending by them.