The 6th survey on travel consumption on smart phone, conducted by JTB Tourism & Consulting, finds that the ratio of booking or purchasing of travel products on smart phone reaches 47.3% in Japan. By product item, the highest ratio is found in lodging (27.7%), followed by restaurant (15.8%), domestic tour (15.7%), air ticket (12.6%) and rent-a-car (8.3%). Among them, a large growth is found in restaurant and rent-a-car. 
In reverse, the ratio of overseas tour lowers to 1.2%, and a main reason for not booking on smart phone is 'it is troublesome to type various information (40.3%). 

Things to do on smart phone before departing are 'sharing destination information or booking information with travel companions (46.8%)' and 'searching routes (40.9%). Things to do in destination are 'searching routes (45.2%)' and 'searching restaurants or cafes (44.8%).' After traveling, 'sharing photos' is predominant with the ration of 59.3%, and interesting the ratio of 'sharing destination information' is high with 31.1%. JTB analyzes that reconfirmation of travel experiences may be a trigger for the next travel.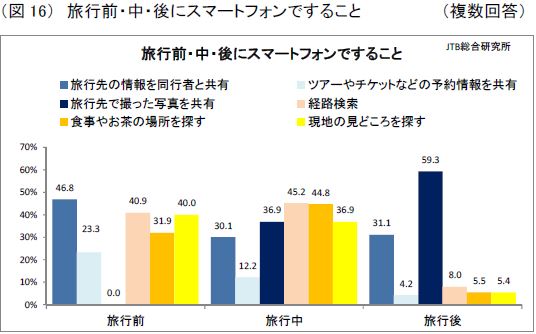 Regarding AI-based services, the ratio of experiences to use them is 11.4%, and the high ratio is found in inquiries to lodgings (8.3%), particularly high among 30's males and 29 years old or younger females. Users seem to have good impressions to AI-based service mainly because of asking more easily to AI than human (60.7%). Interestingly, the ratio of 'want to use more frequently in accordance with technology improvement (22.2%)' is higher than the ratio of 'not necessary (10.3%).'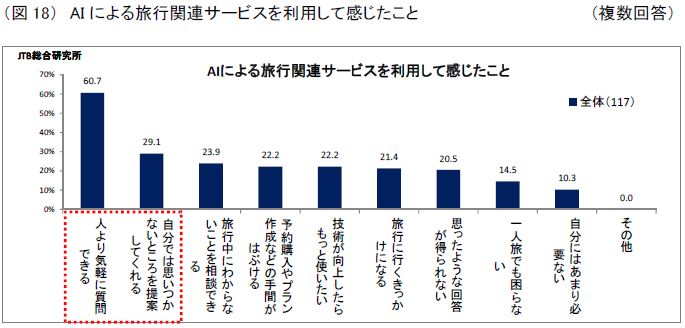 Regarding SNS, the ratio of 'just seeing, not posting' rises to 36.9%. At the same time, the ratios of 'inspired by SNS' rise for three years in a row to 20.8% for selection of a travel destination and to 20.7% for purchase of goods.
Major satisfactory points in traveling inspired by SNS are 'experiencing real atmospheres (55.6%)' and 'experiencing things posted on SNS for real (54.7%). On the contrary, major dissatisfactory points are 'busier than expected (24.8%)' and 'not more tasty than expected (20.1%).'