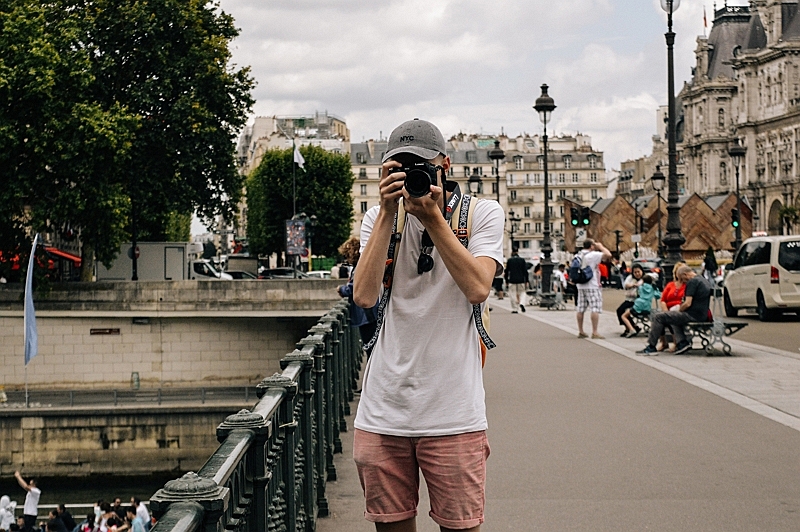 JTB Tourism Research & Consulting conducted an online survey on Japanese sentiment for the future overseas travel to clarify what Japanese experienced overseas travelers are thinking about the future overseas travel now. The survey was carried out between February 4 and 7 2021.
The survey results illustrate that Japanese who experienced overseas travelers in 2019 traveled in Japan in 2020 more frequently than those who experienced domestic travel only in 2019. The performance rate of domestic travel by overseas travelers was 71.7% in 2020, higher than 53.6% of domestic travel only.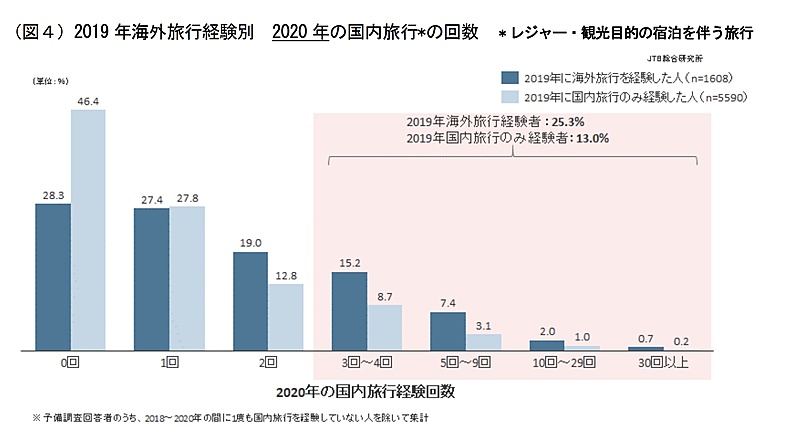 報道資料より
For intention to travel overseas in the next few years, the ratio of 'aggressive overseas travelers' with 24.4% is almost equal to the ratio of 'negative overseas travelers' with 23.2%.
The ratio of 'aggressive overseas travelers' is about 40% among 15 to 29 years old females, while it is below 20% among 60 years old or older males and females.
60.4% answered that they won't travel overseas until the pandemic calms down globally, and 25.8% said that they will wait for preferred destinations to welcome travelers.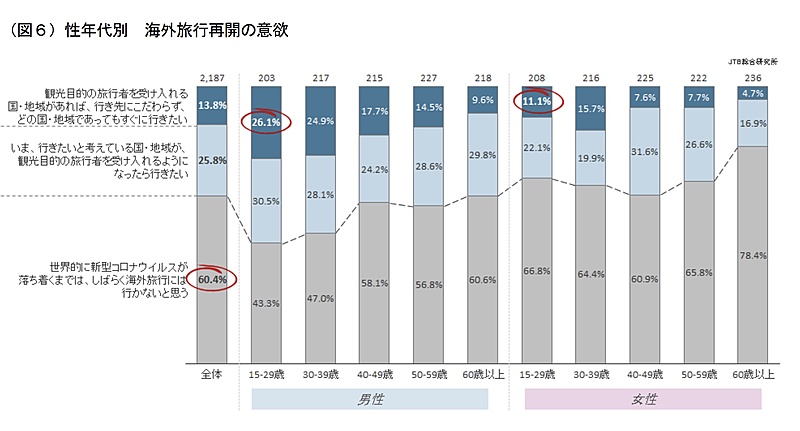 報道資料より
The top want-to-go destination after leisure overseas travel reopens is Hawaii with 20.1%, followed by Taiwan wit 11.8%, U.S. mainland with 7.5%, Australia or New Zealand with 7.0% and South Korea with 7.0%. Hawaii is the top in all males and females age segments. Taiwan is relatively selected by more males, and South Korea by more females.
About quarantine in a destination, the ratio of those who accept it is just 16.9% overall, but it is 51.2% among those who want to travel overseas as soon as possible regardless of destinations.
Regarding a 'fully-managed package tour' that is regarded as a chance to restart travel to Hawaii, the ratio of those who want to join is just 12.7%, while 41.7% answered that they will wait for individual travel to become possible.